Home » Disc Golf, South River
Tom Thomson Park Development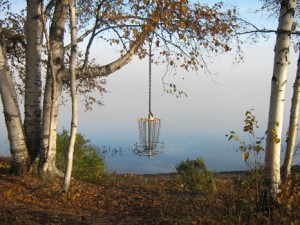 We also have a printable petition which you can take with you to events or to have your friends sign to show your support for The Disc Golf Course at Tom Thomson Park. Please print and mail to:
Algonquin Disc Golf Club, c/o Kara Mitchell, RR 1, South River, Ont. P0A 1X0 when complete!
Click Here to Get the Printable Petition.
Background: There is currently a proposal pending with South River Town Council and the Tom Thomson Park Planning Committee for the Front 9 Disc Golf holes at Tom Thomson park to be removed and placed away from the water front, in the less developed/uncleared area currently used for the 'Back 9'.
This has been proposed as a way of limiting conflicts for use of space between disc golfers and the growing number of other users of the park who walk or want to picnic / rest safely on the lawns or benches by the waterfront.
As users of and volunteers who have developed the Disc Golf Course at Tom Thomson Park, we ask to retain as many targets on the Front 9 / in the waterfront area as possible through upcoming changes to the course design, and specifically, the hanging basket which is a signature design and hallmark of the park throughout the Province of Ontario.
We know that this will be key to maintaining a high quality course used by a diversity of local and visiting players while maintaining a safe park for multiple users.
We believe in the evolution of the Disc Golf Course as a component in a shared community space and will always work with the Town of South River planning Committee and all volunteers in a proactive, respectful and cooperative manner.
We take very seriously the safety of all park visitors and will take increased measures in club and tournament communications and in park design and signage we are eager to install this year to ensure that Disc Golfers abide by the rights of way of other pedestrian or stationary park users.
We will draw from experience and course design standards which have been successfully implemented in mixed use parks across the Province of Ontario including places of significantly higher populations including Centennial Park in Etobicoke and Toronto Island.
We will do everything we can do to keep communications about this in the open, respectful, professional and about goals of a quality course within a beautiful, shared location which has developed over the years through the hard work and dedication of everyone involved.
We encourage others to also provide feedback to town planners by writing / emailing the Village of South River about ways the park is currently and will be shared safely and enjoyably, about your opinion on on the conflicting proposals on park and course design it has been presented with.
Village of South River
attn: Deputy Mayor, Les Mahon, Clerk Susan Arnold & Tom Thomson Planning Committee
63 Marie Street . P.O. Box 310
South River, Ontario . P0A 1X0
info@southriverontario.com
(By mailing above you will automatically CC us at algonquindiscgolf@gmail.com)
We the undersigned ask you to sign our petition.
Sincerely,
Algonquin Disc Golf
Kara Mitchell
Ryan Briggs
Dan Nedelko
PLEASE NOTE: You will receive a confirmation email after signing the petition, please click on the link there in order to comply with online petition standards!
Dan Nedelko,
Please share this with your friends and get involved. Your comment would be greatly appreciated as well!
Stu Silverman, Toronto
Ryan Briggs, North Bay
xxxxxxxx, south river
The disc golf course is one of the best things to happen in South River community in a long time. Changing the current layout is not in anyone's best interest.
Ydelso Abreu, Mississauga, On
Please do not destroy what Dusan Nedelko put so much love, time and effort in to. It would be another tragic loss for our Disc Golf Community.
Dustin Fournier, Waterdown, Ontario
Annemarie Perciasepe, South River
This park would not exist if it were not for the hard work and dedication of those who love the sport and supported Dusan's passion and desire to have a course accessible to all. We are advocating on behalf of the man who cannot advocate for himself and the Park.
Bryce Hill, Brantford, On
I love coming to South River to play disc golf on the most picturesque course in Ontario, It would not be the same if the front 9 are moved from where they are now. Please leave it as it is.
Damon Holowchak, Vancouver
john Denniston, toronto
Scott Luttrell, Huntsville
The disc golf course is the readon that I travel to South River either with my family or a group of golfers.It would be a shame to lose the most challenging part of the course.
Donny Olow, San Diego , CA.
Beautiful Course !!!
Michael Ball, Livonia, Mi
Beautiful Course, Please Keep It.
Adam Czarnata, London ON
Mark Fredette, North Bay
I feel confident all parties can come to an ideal plan where all can enjoy this wonderful space.
Lisa Doucette, Brantford
Kim Scott-Wood, Toronto
This course is one of the best in Ontario, please keep it in the ground.
Dave Kelly, Barrie, Ont
My trips north on Hwy 11 wouldn't be the same without my ritualistic stop in South River. I hope that it remains intact as it is today for as long as possible.
Ryan Bevilacqua, Palgrave
Tom Thompson Park is one of the premier disc dolf courses in the province. Please do not tamper with it.
Joel McEwen, Hillsdale, ON
Allow due process to find a mutual solution to the problem, involve the disc golf community or the game will cease to flourish in South River.
Sid Duiker, Waterloo
Colin McDonald, Ottawa
It would be a tragic loss to the Community if this change takes place!
Mike McCubbin, Nprth Bay, Ontario
This cannot happen!
Jason Jalonen, Toronto
Disc golf thrives in South River, and all park users can enjoy it harmoniously. Dušan beautified Tom Thompson park and his efforts are enjoyed by all. Toronto Island DGC is a perfect example how multiple park users and disc golf can coexist.
Cassidy Mayne, Michigan, USA
Kelly Muller, Toronto
In honor of Dusan Nedelko alone, we ask tha this course remain as is. He worked so hard to make it what it is and to diminish it in anyway is a slap in the face to him and all of us.
Duane Chris, Waterloo
cherylst.martin, st.thomas
I love this course, i would stop there every time i went to see my family in north bay.
Michael Mills, Toronto
Please don't throw away the hard work of those in your community.
Vern.Lepine, Toronto/Ontario
For Dusan and the rest of us disc golfers please let course remain in beautifull South River
Rob Rutherford, Brantford, ON
Love the course, have plyed it many times, thru education of the public and players, both the park and the disc golf park can coexist. We have a 18 hole course in Brantford in a park that has multiple users. Education of public and players is key for harmony.
Andrew Vallée, Ottawa
Save the front 9, I love South River!
Kyle Fisher, Ottawa
Can't we all just get along?
Kelly Giddings, Ottawa
Trevor Wyatt, Brantford (with a cottage near Burk\\'s Falls)
One of the highlights of coming up to the cottage now is being able to come and play the beautiful course at Tom Thomson park, please don't change this. I never thought that my favourite place could become any better, but Dusan managed to do that.
sandra meszaros, Toronto
Disc golf is growing exponentially, in the USA, Canada, and around the world. Disc golf combines several great outdoor recreational activities – a walk in the park, the physical and mental challenges of the game of golf, and the art of throwing a Frisbee. During these difficult economic times it also offers a great low cost alternative to more expensive pastimes, for lower income peoples and the general public.

The hard work done over the past few years by the late Dusan Nedelko and other local lovers of the game to put in this great course has brought many players from all over Ontario to beautiful South River. Save the front 9 and reap the rewards of continued visitors to this premier course!
Craig Walters, St. Cathariens
I travel to North Bay Quite often. I would hate to see anything happen to South River.
Dwayne Bereziuk, Brantford, Ontario
Ryan&Kara
Please continue to use all resources available and stay in touch with the Tom Thomson Planning Committee.
Geoff Penton, Ottawa, ON
David MacDonald, Toronto
Please do not make any changes to one of, if not the, most pituresque courses in Ontario. Dusan Nedelko put his heart and soul in bringing this course to life, let's not quash his dream...his legacy!!!
xxxxxxxx, toronto
Michael Trask, Phoenix, NY
Please save South River, Disc Golf is a growing sport, it will only enhance the park... not detract!
Kati Gordon, Oklahoma
I lived in Alberta for 5 years and loved the courses. No matter where it is, I'm all about supporting the sport.
Ben, rochester ny
Dani, Burk\\'s Falls
Mark Jelinski, mississauga
justin Cook, North Bay
changing the course layout would be a step in the wrong direction
Trevor McCartney, Etobicoke
This cannot happen...
Chris Crowell, North Bay ON
This is one of the best courses in Ontario in regards to level of play as well as course character. It brings people from all over the province to South River every year and would be a real loss to the disc golf community and the town if it were to be significantly altered from its current layout.
Colin O\'Hearn, Calgary, AB
Paul Michel, Mississauga ON
One of my favorite courses! Try and get up for every tournament at South River. Love the front 9 and would not like to see any changes.
Rob Read, Waterdown
Please do not allow the proposed changes to the front nine of this course. It draws many of us up from the south and the course would not be the same without it. Please dont make the change and ruin what Dusan and others worked so hard to create.
Chris Shier, North Bay
This course is enjoyed by many local disc golfers and hundreds of travellers who bring in a lot of money to the small businesses in South River. To change the beautiful and challenging layout that many have worked very hard at perfecting would be damaging to both the South River community and the disc golf community.
Christopher Telfer, South River
Please preserve Dusan's legacy and the chance for more people to experience the wonderful sport of Disc Golf, as I have since moving up to south river.
Jillian Allison, South River
The disc golf course here is not only the most beautiful course in Ontario, it is the realization of Dusan's passion and a place where people can come from all over the province to experience this town. I have met people from Sudbury to Burlington area who have come up here to play the course and are in awe of it. It's unnecessary to eliminate half of the course and if it's about economics, it contributes to tourism in this area.
Melanie Cook, Previous South River Resident
Justin Pender, South River
Glen Atwell, Magnetawan
I discgolf, eat in the town every time, and gass up , on average I spend a visit into your economy, sometimes More.
Bibi St John, Brampton Ontario
To take these nine holes away is destroying one of the most beautiful disc golf park .. So many of us look forward every .. to go and play at Tom Thompson park .. we will not just lose a park we will lose a friend ... don't do it
Sean Gibson, South River,ON
Responsible Disc Golfers are not a threat to the public. They will wait for persons to pass, and pass on a hole if there are persons enjoying a bench or other section of park.
xxxxxxxx, St. Thomas
Leave the course alone.
Jennifer Upton, Peterborough
The South River course is known throughout the province as being one of the best courses in Ontario. I hope everything possible can be done to see the hanging basket remain.
Robert Lukasiewicz, Toronto
Reading through the comments already written, I would like hear what the committee has concerns about. Safety of everyone is always important, best way to be safe is to be educated. It's a wonderful park and the course is great for us new to the sport, it is an attraction to South River. The sport of disc golf promotes a more active and social lifestyle and that can only be seen as a good thing...if the course has to be changed (I hope not) then everyone's comments on this petition should be read aloud at the next meeting and everything taken in to consideration.
Dusan and others have worked incredibly hard on this not for themselves but for everyone to enjoy,
why change a good thing?
Megan McLean, Cambridge
xxxxxxxx, Ottawa
Rhonda Maguire, Originally the South River area
This course is a wonderful example of community space well used...and a tribute to an astonishing individual!
Ty Pitcher, Toronto
Bozena Barisic, burks falls,on
Please keep the course as it is in the memory of the man who put his heart and soul into it.
Cindy Slaats, St. Thomas, ON
Bill Tweedie, St. Thomas, ON
Dusan Newell, Thornbury
Don't be Hate'in!
Andrea Johnston, Thornbury
xxxxxxxx, Kitchener
When there is a will there is a way - please save the front 9, leaving the original course designed by Dusan to use by others as it was ment to be.
Patty O\'Hearn Kickham, Guelph, Ontario
Eric Vandenberg, Etobicoke
Have enjoyed this course several times and would like to see it stay intact if possible.
Sue Cina, Kitchenere
By preserving the course as it is we'll honor the deducation and life of Dusan Nedelko, so all we ask is that this course remain as it was created by special person and those who helped.
Tony Carson, North Bay
Please keep any changes to the South River Disc Golf Course to an absolute minimum. I have played many courses, and this is one of the finest. It would be a shame to loose the best of it. I play in Florida on vacation in city parks located in major city centers that have pathways that are heavily used with no problems. I have even played a disc golf tournament while a running marathon was occurring on the paths through the park and there where no problems. The golfers just patiently waited for the way to be clear before proceeding. The golfers actually made substantial improvements to the parks (Garbage cans, no litter signs, they clean up garbage as they play, they keep undesirables away, grounds keeping and much more). The Disc Golfers are an amazing group of people that are out to have fun, keep fit, and make excellent use of the park. Please visit these video links to view 3 of the metropolitan parks I play at with pedestrian paths and heavy foot traffic in the St Petersburg Florida area and you will see that Disc golfers and other park users get along just fine;

http://www.youtube.com/watch?v=NRzbAuVfLY0&feature=related

http://www.youtube.com/watch?v=1ym5F6gEL1Q&feature=related

http://www.youtube.com/watch?v=ySTuuLee53U&feature=player_embedded
Dave Yoshimoto, Toronto
So much work was put into the development of this park by disc golfers, especially Dusan Nedelko. The improvements made to this park are evident to anyone who has visited Tom Thompson Park over the past 7 or so years. Please consider the contributions made by Dusan and all other volunteers - as well as the number of tourists who visit the region explicitly to play the course - before you decide to alter the layout. With so much beautiful land in South River it is unfathomable to think that another park could be set up.
Chris Wilinson, Peterborough
great course, play it with the family when we visit the area. please save the front 9!
Marcus Elia, Peterborough
This beautiful and challenging front 9 has become the reason I will stop in South River, rather than Sundridge or Magnetawan, or even North Bay, on my oft-travelled route to Temagami. Especially with the monstrous by-pass nearing completion, this unique town should maintain and exploit this excellent attraction to travelling disc golfers. Please keep the front nine!
xxxxxxxx,
We love waterfront holes
Paul Saftich, Brooklin
Trevor, oakville
Theresa Geil, Houghton lake, Michigan
Spef, yRvYwGcWjETPkO
Hi ,This is a plea from Bonny Scotland! I met Ron Stelten when he came over to Europe to test himself on the European Tour. I caeiddd for him in a few events, and have since kept in touch. Ron wears his heart on his sleeve, and I gained a real insight into the burning desire he has to prove his talent at golf, when I caeiddd for him.A true student of the game, it most certainly was not through a lack of effort, or ambition, that he did not quite reach his targets on the European Tour. In fact he led the Madiera Open that year going into the last round only to be a victim of severe winds that forced him down the field , but still a high finish. So the talent was there for all to see!Ron even then needed the financial backing to take the pressure off and allow him to play his best golf.So I ask all American golf fans to back Ron Stelten and send him over to the UK to continue his quest to reach his golfing goals! I will team up with him again and get Team Stelten back on the links once again!Thanks Patrick.
Buscaglia
gba, RONGCUN
|
Mary Farrar, Kingston
xxxxxxxx, Toronto
Paul Waque, Callander
We visit South River weekly to play the park. We find it easy to bypass the holes that might be in conflict in the rare occurrence where that area is in use other users. We find others very friendly there.
Popularity: 30% [?]