Home » Disc Golf, South River
Tom Thomson Park Development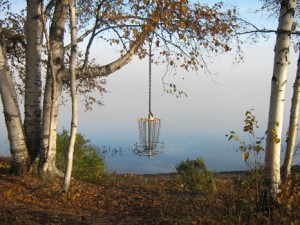 We also have a printable petition which you can take with you to events or to have your friends sign to show your support for The Disc Golf Course at Tom Thomson Park. Please print and mail to:
Algonquin Disc Golf Club, c/o Kara Mitchell, RR 1, South River, Ont. P0A 1X0 when complete!
Click Here to Get the Printable Petition.
Background: There is currently a proposal pending with South River Town Council and the Tom Thomson Park Planning Committee for the Front 9 Disc Golf holes at Tom Thomson park to be removed and placed away from the water front, in the less developed/uncleared area currently used for the 'Back 9'.
This has been proposed as a way of limiting conflicts for use of space between disc golfers and the growing number of other users of the park who walk or want to picnic / rest safely on the lawns or benches by the waterfront.
As users of and volunteers who have developed the Disc Golf Course at Tom Thomson Park, we ask to retain as many targets on the Front 9 / in the waterfront area as possible through upcoming changes to the course design, and specifically, the hanging basket which is a signature design and hallmark of the park throughout the Province of Ontario.
We know that this will be key to maintaining a high quality course used by a diversity of local and visiting players while maintaining a safe park for multiple users.
We believe in the evolution of the Disc Golf Course as a component in a shared community space and will always work with the Town of South River planning Committee and all volunteers in a proactive, respectful and cooperative manner.
We take very seriously the safety of all park visitors and will take increased measures in club and tournament communications and in park design and signage we are eager to install this year to ensure that Disc Golfers abide by the rights of way of other pedestrian or stationary park users.
We will draw from experience and course design standards which have been successfully implemented in mixed use parks across the Province of Ontario including places of significantly higher populations including Centennial Park in Etobicoke and Toronto Island.
We will do everything we can do to keep communications about this in the open, respectful, professional and about goals of a quality course within a beautiful, shared location which has developed over the years through the hard work and dedication of everyone involved.
We encourage others to also provide feedback to town planners by writing / emailing the Village of South River about ways the park is currently and will be shared safely and enjoyably, about your opinion on on the conflicting proposals on park and course design it has been presented with.
Village of South River
attn: Deputy Mayor, Les Mahon, Clerk Susan Arnold & Tom Thomson Planning Committee
63 Marie Street . P.O. Box 310
South River, Ontario . P0A 1X0
info@southriverontario.com
(By mailing above you will automatically CC us at algonquindiscgolf@gmail.com)
We the undersigned ask you to sign our petition.
Sincerely,
Algonquin Disc Golf
Kara Mitchell
Ryan Briggs
Dan Nedelko
PLEASE NOTE: You will receive a confirmation email after signing the petition, please click on the link there in order to comply with online petition standards!
Popularity: 30% [?]